Roles & Permissions
The following instructions describe the most of the functionalities available to a program administrator. Users with access to a breeding program have different abilities to review, edit, and manage breeding activities within the program. Depending on your permissions, not all described functionalities described here may be available to you.
Some data in the BMS is program-specific. Otther data is crop-specific and can be accessed from any program sharing a crop database. For example, germplasm lists are program specific. However, all programs using a single crop can review and reserve any germplasm in the crop database.
Program level management activities
Germplasm lists
Nurseries
Trials
Favorites
Crop level management activities
Germplasm and Inventory
Locations
Ontology terms
Breeding methods
System Administrator
The system administrator, or Super Admin: adds new users, defines user roles and permissions, and manages the BMS on a local or cloud server. The system administrator determines which crops to install and is responsible for maintaining the BMS, backup files, and server security. The system administrator can review and access all programs. See your system administrator if you need to access functionalities unavailable due to permission restrictions or if you have concerns about data security or BMS performance.
Program Administrator
A program administrator has full permissions within programs where they are members - including the ability to manage the crop ontology and import new germplasm into the system (these topics are described in other manual sections).
Add new system users
Add new programs
Manage program settings

Basic Details: Name program
Members: Assign system users to programs
Locations: Add locations and establish program favorites
Breeding Methods: Add methods and establish program favorites
System Labels: Customize interface language
Program Summary: Review
Restricted Permissions
Permissions can be restricted in a variety of ways. The following screenshot illustrates the BMS default breeder view.
Basic Details - Review only
Locations - Review only
Breeding Methods - Review only
Program Summary - Review
Add New System User
Select Site Admin the administrative buttons on the header menu.
Review the users with access to the selected program.
Select Add User.
Enter details about the user and select Add User. The default selection will send the user an email with password reset instructions.
Select deactivate and confirm to block user access to the system.
Add New Program
Select Add A Program from the administrative buttons on the header menu.
Specify Crop
System administrators establish the available crops. Contact your system administrator to request additional crops.
Select the desired crop from the drop down menu.
Add a program name. Accept or change Program Start Date. Save and Finish.
Delete Program
Caution: Deleting a program may result in permanent data loss. Contact your system administrator for assistance.

Manage Program Members
Add program members by clicking on Program Members.
Drag and drop selected system users into your program. Notice that the Super admin and the program's creator are program members by default.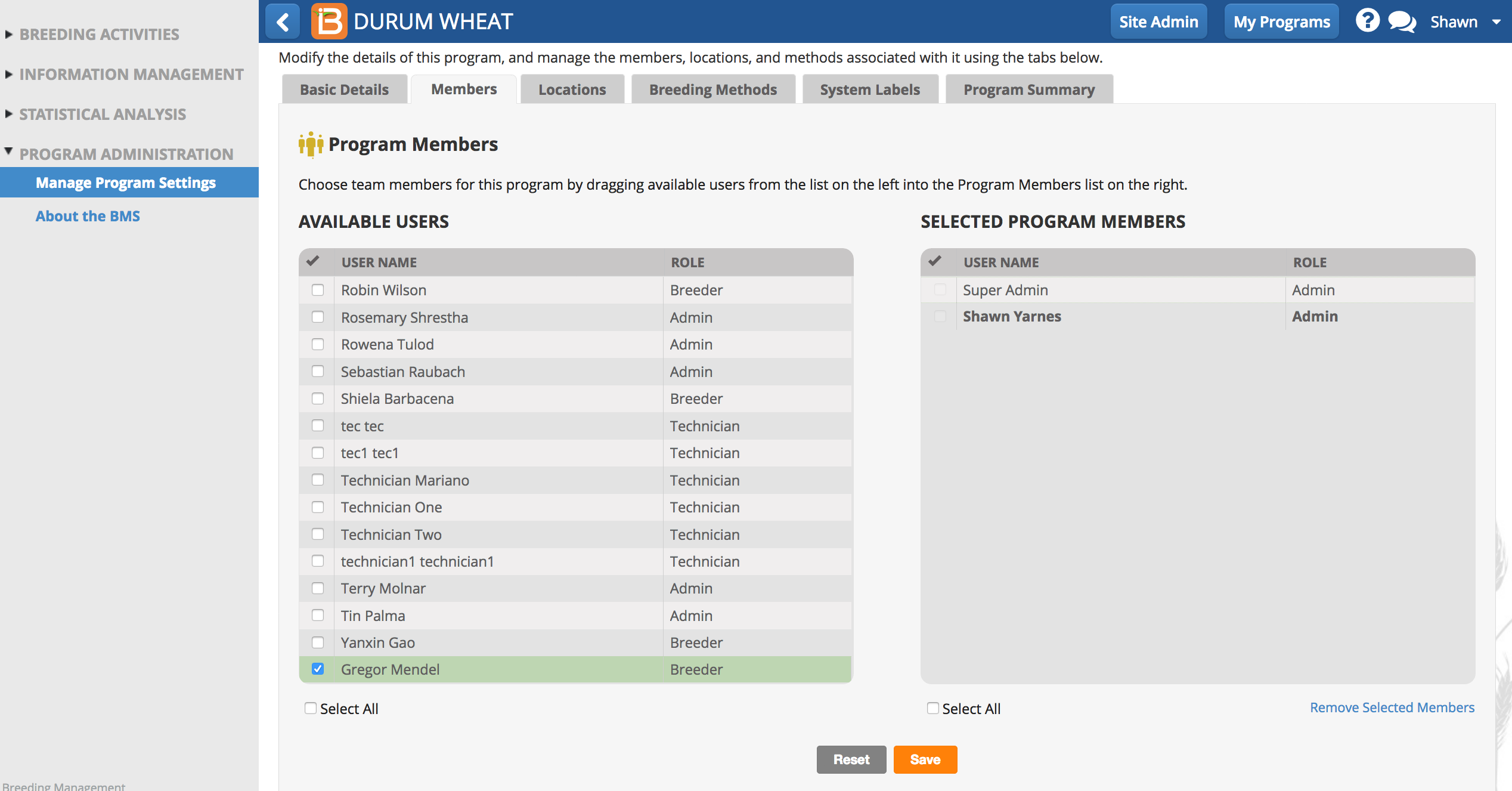 Select Save to finalize the addition or subtraction of a program member.
Manage Locations
Select Favorites
Drag and drop selected locations to the program favorites list. For ease of use, the more concise list of program favorites will be offered by default across the program.
Add New Location
Select Add New Location. Enter location details and Save.
New locations are added to the full crop database list as well as the program favorites.
Select Save to finalize changes.
Manage Breeding Methods
Choose the breeding methods used in the breeding program from the list of available methods. Add new custom methods as needed. Highlight available methods to populate the program favorites lists. Select Add to Favorite Methods and Save Favorites. Selected breeding methods will be available for selection during generation advancement.
System Labels
Customize the labels that appear in table heading throughout the program by altering the text and saving.
Program Summary
Review and export program summary. Use the Actions menu options to narrow or sort program activities.
Related Materials
Manual: Manage Ontology
Manual: Germplasm Import